Modules
Stage One
Code
Title
Status
Action

Code

HPS101

Title

Assessment of Patients with Cardiovascular Disease Prior to Non Cardiac Surgery

Status

Compulsory

Action

View

Code

HPS102

Title

Cardiac Arrhythmias

Status

Compulsory

Action

View

Code

HPS100

Title

Advanced History Taking Cardiac Science

Status

Compulsory

Action

View

Code

HPS103

Title

Community Cardiology

Status

Compulsory

Action

View

Code

HPS104

Title

Congenital Heart Disease

Status

Compulsory

Action

View

Code

HPS105

Title

Echocardiography

Status

Compulsory

Action

View

Code

HPS106

Title

End of Life Care in Cardiology

Status

Compulsory

Action

View

Code

HPS107

Title

Evidence Based Non Invasive Diagnostics

Status

Compulsory

Action

View

Code

HPS108

Title

Heart Rhythm Management Pacing Management

Status

Compulsory

Action

View

Code

HPS109

Title

Heart Rhythm Training Electrophysiology

Status

Compulsory

Action

View

Code

HPS110

Title

Hypertension

Status

Compulsory

Action

View

Code

HPS111

Title

Imaging Physics in Cardiology

Status

Compulsory

Action

View

Code

HPS112

Title

Performing a Focused, Relevant Clinical Examination

Status

Compulsory

Action

View

Code

HPS113

Title

Presentation and Management of Cardiac Disorders

Status

Compulsory

Action

View

Code

HPS114

Title

Primary and Secondary Prevention of Cardiovascular Disease

Status

Compulsory

Action

View

Code

HPS116

Title

Resuscitation Immediate Life Support

Status

Compulsory

Action

View

Code

HPS117

Title

Therapeutics in Cardiac Science

Status

Compulsory

Action

View
Stage Two
Information:
Complete compulsory modules and 3 optional modules of your choice.
Code
Title
Status
Action

Code

HCC20

Title

Clinical Bioinformatics, Genomics and Personalised Medicine

Status

Compulsory

Action

View

Code

HCC22

Title

Innovation in Healthcare Science

Status

Compulsory

Action

View

Code

HCC24

Title

Patient and Public Involvement, Engagement and Partnership in Healthcare and Healthcare Science

Status

Compulsory

Action

View

Code

HCC25

Title

Science Communication

Status

Compulsory

Action

View

Code

HCC26

Title

Teaching, Learning and Assessment

Status

Compulsory

Action

View

Code

HCC21

Title

Doctoral Level Research

Status

Compulsory

Action

View

Code

HPS134

Title

Adult Congenital Heart Disease Expert Scientific and Clinical Practice

Status

Optional

Action

View

Code

HPS135

Title

Advanced Transthoracic Echocardiography

Status

Optional

Action

View

Code

HPS136

Title

Cardiac Electrophysiology 1

Status

Optional

Action

View

Code

HPS137

Title

Cardiac Electrophysiology 2

Status

Optional

Action

View

Code

HPS139

Title

Cardiac Resynchronisation Therapy

Status

Optional

Action

View

Code

HPS143

Title

Implantable Cardioverter Defibrillator Therapy

Status

Optional

Action

View

Code

HPS144

Title

Pacemaker Therapy

Status

Optional

Action

View

Code

HPS145

Title

Stress Echocardiography

Status

Optional

Action

View

Code

HPS146

Title

Transoesophageal Echocardiography

Status

Optional

Action

View
Programme specification
Details
Programme title

Higher Specialist Scientist Training Programme (HSST) — Cardiac (Adult)

Division

Physiological Sciences

Discipline

Cardiac

Normal length of programme

5 years

Outcome awards and professional eligibility

Successful candidates will be awarded:

Certificate of Completion of the Higher Specialist Scientist Training Programme. Awarded by the National School of Healthcare Science.

Total credits

540

Mode of study

Work-based with integrated part time DClinSci or FRCPath

Programme accredited by

The Academy for Healthcare Science
Programme aim
The programme has been developed to enable a selected cohort of clinical scientists to be trained to take on the role of a consultant clinical scientist. It is a programme that is both flexible and bespoke to the individual.
It includes the incorporation into the training programme of all or part of a professional doctorate award according to trainee previous experience and qualifications and comprising modules in:
High level scientific and clinical knowledge
Leadership and professionalism
Research and innovation
Expected programme outcomes
On successful completion of the HSST and its underpinning doctoral level academic programme graduates will possess the essential knowledge, skills, experience and attributes required of a Consultant Clinical Scientist in the NHS and will:
demonstrate practice that places the patient and the public at the centre of care, prioritising patient safety and dignity and reflecting NHS/health service values, the NHS Constitution and meets the professional standards defined by Good Scientific Practice;
demonstrate systematic acquisition and understanding of a substantial body of scientific and clinical knowledge which is at the forefront of healthcare science;
possess a breadth of clinical and scientific knowledge across a range of related and relevant science specialties;
demonstrate the general ability to conceptualise, design, lead and implement a project for the generation of new knowledge, applications or understanding at the forefront of healthcare science;
demonstrate an advanced and detailed understanding of applicable methods for research, innovation and advanced academic enquiry;
demonstrate the ability to create and interpret new knowledge, through original research or other advanced scholarship, of a quality to satisfy peer review, extend the forefront of the healthcare science/specialism, and merit publication;
demonstrate advanced critical thinking with a sound grasp and application of research methodology which supports vision and innovation in the application of basic science to health and an effective understanding of leadership, NHS current policy, influencing and advanced communication skills;
communicate clearly to specialist and non-specialist audiences including patients and the public;
demonstrate scientific and clinical leadership based on the continual advancement of their knowledge, skills and understanding through the independent learning required for continuing professional development.
Will be able to:
make informed judgements on complex issues in specialist fields, often in the absence of complete data, and be able to communicate their ideas and conclusions clearly and effectively to specialist and non-specialist audiences;
deal with uncertainty;
continue to engage in continuous personal and professional development, resulting in leading the development of new techniques, ensuring innovation and facilitation of transformational change in science and in the service through ideas or approaches that benefit the patient and NHS;
engage with contemporary research and analysis as a basis for critical reflection on their own and others' professional experience and work based practice.
Will have:
the qualities and transferable skills necessary for employment as a Consultant Clinical Scientist, which requires the exercise of personal responsibility and largely autonomous initiative in complex and unpredictable situations, in professional or equivalent environments leading and working within teams
Learning and teaching methods
A blend of methods is used to ensure effective capture of robust evidence relating to the three components of the HSST programme.
The components of the programme are:
Acquisition and application of specialist scientific knowledge up to Consultant Clinical Scientist level.
Mastery and practice of higher clinical and scientific skills, including professionalism, and the values, behaviours and attitudes expected of leaders in healthcare science.
Ability to make a significant contribution to knowledge generation and innovation in healthcare science service and practice.
Assessment methods
Portfolio of workplace-based evidence
Annual Review of Progression
Multi Source Feedback
Independent Assessment of Professional Skills (IAPS) – HSST Final Assessment
Standards of proficiency
To gain entry on to the Higher Specialist Scientist Register you must demonstrate that you are able to practice within the 5 Domains:
Domain One: Professional Practice
Domain Two: Scientific Practice
Domain Three: Clinical Practice
Domain Four: Research, Development and Innovation
Domain Five: Clinical Leadership
Programme structure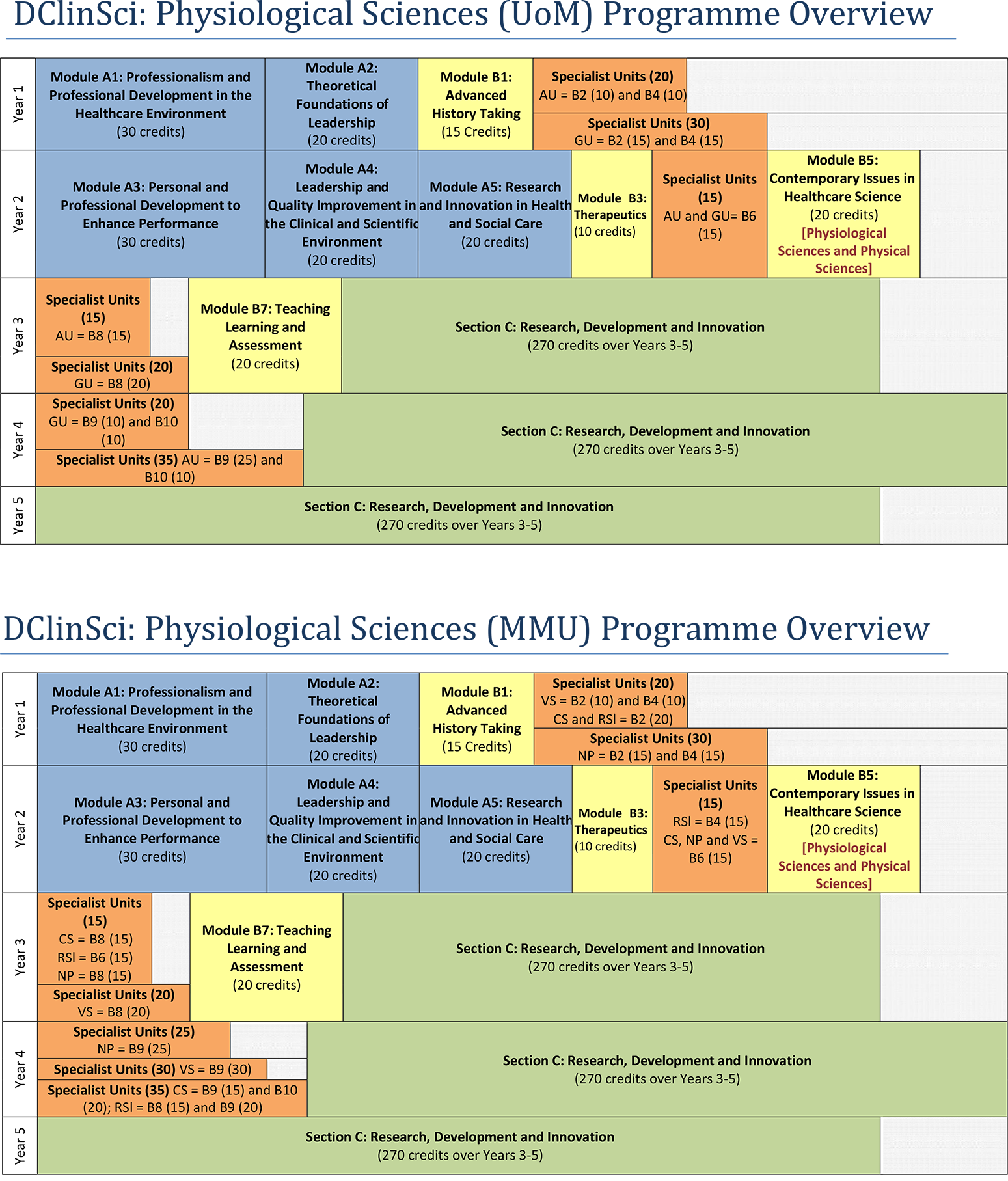 Entry routes and requirements
Entry routes
In England there are two routes into the programme

Direct entry – Trainees are competitively appointed into a training post funded through the local Health Education England training board
In-service entry – Trainees enter the programme with the support of their employers.

Entry requirements
For both entry routes, HSST applicants must participate in the national recruitment/assessment process and meet the minimum entry requirements for the academic and work-based programme.

Applicants must be a registered Clinical Scientist with HCPC.